암호로 보호된 갤러리 My photo shoot in the "pink" style !
9

장 사진
9 photos Photos of my life !
8

장 사진
8 photos
ElsaEwans님의 주요 정보
| | |
| --- | --- |
| 성별 | 여성 |
| 성적 취향 | 이성애자 |
| 나이 | 18 |
| 신장 | 5'4" - 5'6" [160cm- 170cm] |
| 무게 | 100 - 120 파운드 [45 - 55 킬로그램] |
| 헤어 | 금발 |
| 눈 | 파란색 |
| 인종 | 백인 |
| 언어 | 에스토니아어, 영어 |
| 고향 | Прекрасный |
| 음모 | 털 면도함 |
| 가슴 | 중간 |
| 엉덩이 | 큼 |
나를 흥분 시키는 것
A member of an average size of 17 centimeters, tattoos, loyal and kind people!
내 소개
An open and cheerful girl, but also sometimes I am too depraved!
내 기분을 상하게 하는 것
False emotions and duplicity, deception and begging, greed and poverty.
웹캠에서 하는 일
Just my life !
I greet you, my dear viewer, in my personal profile!

Usually I spend my free time with benefits for myself, as, for example, I really like to sing, I do it perfectly! I hope you've already noticed it!

I don't have many friends, but I'm open to dating! At the moment I don't have my boyfriend. I am engaged in self-development, I also madly love dancing and Ukrainian music along with American music of the 90s.

If you want to support me - on this page I have a list of my frank desires, one of which you can fulfill in order to make me feel good! Come to me more often, I kiss you!
TOP MY KINGS !




TOP MY TIPS !







TOP MY TRAINS !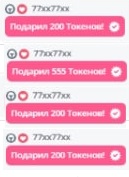 Thank you for quick rise to the TOP-50!
ElsaEwans의 아마추어 영상
Big boobs
1:02
Bad student roleplay
1:06
Rate my high black heels
1:04
My school education !
Nowadays I study remotely in my interactive school and study subjects such as mathematics, biology and social studies!
I plan to finish all 11 years of study with excellent marks and get a higher education.
My dream is to become an excellent psychologist who will inform teenagers about what is bad and what is good!
My parents did not achieve super-high results in the material sphere, but they brought up a kind and gentle me! I am very grateful to them for this and in the future I will help my relatives who once put me on my paws!
A little bit about my body care !
I am actively engaged in the plasticity of my body, namely, I do a variety of physical exercises in order to be more flexible and skillful for my personal life and modeling career!

I believe that every girl should maintain her image at the highest level, in addition to health!
Lately I've been thinking about starting to monitor my diet. Lately fast food has been consuming our world and all of us together, haha! However, it is never difficult to make a fresh salad of vegetables and have a snack with them, for example, during a break!

Cutie kittie !